We're Getting Mutants in the MCU - The Loop
Play Sound
The Air Itam Monorail, under the Penang Transport Master Plan, is a planned 13 kilometre-monorail line linking George Town with its densely-populated western suburbs of Air Itam and Paya Terubong[1].
A total of 13 stations have been proposed along the 12.8km route linking the heart of George Town with its western suburb of Air Itam and ending at the southern tip of the Paya Terubong suburb[2][3].
Construction of the Air Itam Monorail Line is expected to commence after that of the Bayan Lepas LRT Line, owing to the greater priority of the latter line.
Rationale
The Air Itam Monorail Line is expected to serve residents within the densely populated George Town suburbs of Air Itam, Farlim and Paya Terubong, who commute to work daily in either the George Town city centre or the Bayan Lepas Free Industrial Zone.
As is the case with the Bayan Lepas LRT, daily traffic congestion also occurs along Air Itam Road, due to motorists travelling to work or the several schools along the road.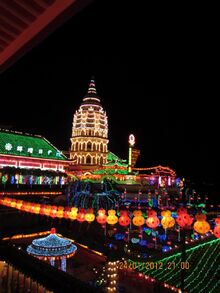 In addition, the Air Itam Monorail Line will benefit tourists visiting the Kek Lok Si Temple and Penang Hill within the Air Itam suburb, as well as shoppers who wish to hop between the shopping malls around KOMTAR (1st. Avenue Mall and Prangin Mall) and the Penang Times Square (including M Mall 020).
The monorail system was chosen due to a number of factors[3] :
The monorail system typically runs on a single railway, unlike the LRT which normally require two or more parallel rails. Therefore, the monorail is better suited to the densely developed suburbs of Air Itam and Paya Terubong, where space is limited.
Monorails are typically built above ground on elevated railways, thereby minimising space requirements and avoiding the usage of the congested Air Itam Road.
An elevated monorail system will also minimise the resultant noise.
The smaller monorail system reduces capital requirement compared to the larger LRT system.
Alignment
As of April 2016, 13 stations have been identified along a 12.8 kilometre route stretching from the heart of George Town to the southern tip of Paya Terubong suburb via Air Itam suburb[2].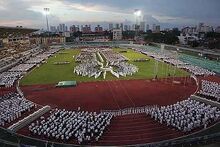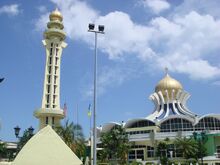 From east to west :
The proposed KOMTAR Interchange will be built at the former Sia Boey market east of KOMTAR. This is the most important interchange that will connect the monorail line with the other planned rail lines on Penang Island - the Tanjung Tokong Monorail, the George Town Tram Line and the Bayan Lepas LRT.
However, the final alignment of the Air Itam Monorail Line is still subject to future review, pending on travel demand, capacity, socio-political and socio-economic reception of the proposed system, and development intensity[3].
Current Status
The monorail line is expected to be constructed after the Bayan Lepas LRT Line, which will be built beginning 2018.
References