Brani Road is a short road off Singapore Road within the George Town city centre. It is one of the few roads on Penang Island that were named after the islands within the Republic of Singapore.
Like Singapore Road, Brani Road was created in the mid-20th. century. It now serves as a residential road.
Etymology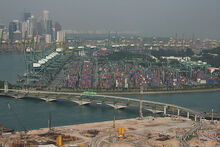 Brani Road was named after Pulau Brani, one of the 63 islands within the Republic of Singapore. Pulau Brani is located between the southern coast of Singapore and the famous Sentosa Island, near Keppel Harbour.
Although Pulau Brani took its name from the Malay word Berani, meaning brave, the island is still spelled as Pulau Brani, hence the spelling of Brani Road.
 Political Representation
Penang State Government
N.29 Dato Keramat State Assemblyman : Jagdeep Singh Deo (Democratic Action Party)
Malaysian Federal Parliament
P.050 Jelutong Member of Parliament : Ooi Chuan Aun (Democratic Action Party)
References
Community content is available under
CC-BY-SA
unless otherwise noted.