Bukom Road is a short road off Singapore Road within the George Town city centre. It is one of the few roads on Penang Island that were named after the islands within the Republic of Singapore.
Like Singapore Road, Bukom Road was created in the mid-20th. century. Today, residential properties and modern shophouses line this minor road.
Etymology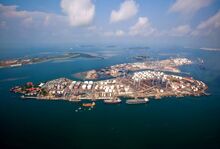 Bukom Road was named after Pulau Bukom, one of the 63 islands within the Republic of Singapore. Pulau Bukom is located in the Strait of Singapore off the southwestern coast of Singapore.
Since 1891, Shell has been using the island to store fossil fuels; today, Pulau Bukom hosts the largest Shell oil refinery in the world.
 Political Representation
Penang State Government
N.29 Dato Keramat State Assemblyman : Jagdeep Singh Deo (Democratic Action Party)
Malaysian Federal Parliament
P.050 Jelutong Member of Parliament : Ooi Chuan Aun (Democratic Action Party)
References