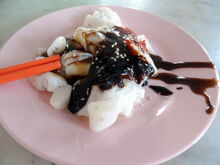 Chee cheong fun ('pig intestine noodle' in Chinese Cantonese dialect) is actually a steamed rice roll dish that originated from Guangdong Province in southern China. The steamed rice rolls give the appearance of pig intestine, hence its name. Its popularity has spread across the numerous overseas Chinese communities worldwide, including in Singapore and Malaysia.
As with other street dishes in the region, chee cheong fun comes in a number of variations, with each being common in a particular geographical region. The Penang variant comes with its distinctive black sticky heh ko ('sweet shrimp paste' in Penang Hokkien) and thnee cheo (a type of sweet dark red sauce).
Chee cheong fun can be found in some of the hawker centres and coffee shops across Penang Island. It is usually eaten as a snack or a side dish.
Ingredients
What sets Penang chee cheong fun apart from the other variants in Malaysia is the combination of heh ko and thnee cheo, which gives the Penang version a sweeter taste.
Also, the Penang version has a somewhat subtle fishy flavour, due to the heh ko which is made of shrimp.
Steamed flat rice noodles (kuey teow)
Heh ko (sweet shrimp paste in Penang Hokkien)
Thnee cheo (thick sweet dark red sauce)
Sambal (a type of Malay chilli paste)
Sesame seeds
Oil
Recommended Places
Penang chee cheong fun is served in certain hawker centres and coffee shops across Penang Island. The following are among the more recommended places to sample Penang chee cheong fun.
References
Community content is available under
CC-BY-SA
unless otherwise noted.