Chong San Wooi Koon is a Cantonese clan association based at the intersection between Church Street and King Street, within George Town's UNESCO World Heritage Site. Its building, which was built in the 19th. century, features exquisite, intricate Cantonese architectural styles and decorations.
Founded in 1801 as Heong San Hoay Kuan, it was renamed after Sun Yat-sen, the father of the Republic of China and revolutionist who hailed from Heong San (now Zhongshan) in Guangdong, China.
History
Heong San Hoay Kuan was established in 1801 to protect the interests and well-being of the small community of Cantonese immigrants from Heong San.
Its association building was subsequently constructed sometime in the mid-19th. century; colonial-era documents revealed its existence as far back as the 1870s. To this day, the association's original name can still be seen on the lintel above the front entrance of the building.
True to the association's origins, the building comprises elements of Cantonese architecture and interior furnishings. Its front façade is graced by a couple of granite columns and intricately-designed corbels featuring terracotta reliefs, while glazed tiles cover its roof.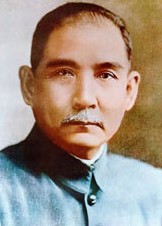 In the early 20th. century, Heong San Hoay Kuan was renamed Chong San Wooi Koon, in honour of Sun Yat-sen (Sun Chong San in Cantonese), the famous Chinese nationalist who played an instrumental role in the Chinese Revolution of 1911 and founded the Republic of China. He was also born in Heong San (which has since been renamed Zhongshan after Dr. Sun himself), hence the name change. The association's current name has been inscribed onto wooden plaques at both sides of the building's front door.
The building underwent a major renovation in 2012, befitting its status as a heritage building within the core zone of the UNESCO World Heritage Site. Two door gods have been painted on the front door, while a statue of Sun Yat-sen now welcomes visitors inside the building.
Travel Advice
While the building is normally closed to the public, it is open only once a year - the sixth day of Chinese New Year. Traditionally celebrated as a Chinese deity's birthday, clan houses within George Town's UNESCO World Heritage Site, including Chong San Wooi Koon, open their doors on this day for visitors. Thus, this is a rare opportunity to survey the exquisite Cantonese interior architecture, and learn more about the association's beginnings and links with Sun Yat-sen.
Political Representation
Penang State Government
N.26 Padang Kota State Assemblyman : Chow Kon Yeow (Democratic Action Party)
Malaysian Federal Parliament
P.049 Tanjong Member of Parliament : Ng Wei Aik (Democratic Action Party)
References
Community content is available under
CC-BY-SA
unless otherwise noted.