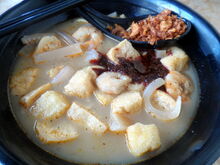 Curry mee is a noodle dish with curry broth ubiquitous in both Singapore and Malaysia. However, as with other street dishes, there are a number of variations of curry mee, with each being common in a particular geographical region.
Penang curry mee closely resembles curry laksa, which is popular in Singapore and southern Peninsular Malaysia. There are differences between both dishes, though, especially with the use of coagulated pig's blood in Penang curry mee.
On Penang Island, Penang curry mee is sold in most hawker centres and coffee shops.
In addition, Penang curry mee has been gaining international recognition in recent years, through the efforts of the Penangite company, MyKuali, the producer of the famous instant Penang curry noodles.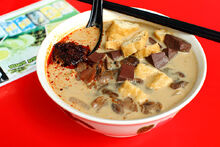 Ingredients
What sets Penang curry mee apart from the similar-looking Singaporean curry laksa is the use of coagulated pork blood and the special sambal (chilli paste in Malay).
The rich curry broth is made with prawn shells and coconut milk.
Blanched yellow egg noodles
Rice vermicelli (beehoon in Hokkien)
Prawns
Cuttlefish
Cockles
Coagulated pork blood cubes
Long beans
Bean sprouts
Mint leaves
Coconut milk
Tofu puffs
Sambal
Recommended Places
As it is the most popular hawker dish on Penang Island, Penang curry mee is available in many hawker centres and coffee shops all over the island. The following are the more recommended places to sample Penang curry mee.
Mykuali
Since 2013, Mykuali, a Penangite company, has been producing its brand of instant Penang curry noodles. The instant curry noodles have gained worldwide acclaim, notably from The Ramen Eater, a popular American instant noodle reviewer; Mykuali's instant Penang curry noodles was ranked top in the website's 'Top 10 Instant Noodles of All Time' list in 2014.
More recently, the company has also produced instant Penang Hokkien mee and instant tom yum noodles.
References
Community content is available under
CC-BY-SA
unless otherwise noted.