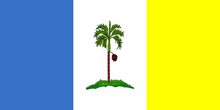 The current flag of Penang has been adopted since 1949.
The Penang flag consists of three vertical stripes of equal width; the left stripe is light blue, the central stripe is white and the right stripe is yellow. An areca nut palm tree (pokok pinang in Malay), from which Penang Island takes its name, stands in the middle of the central white stripe. The light blue stands for the sea that surrounds Penang Island. The white colour signifies the serenity in the state of Penang, while the yellow stripe represents prosperity. The flag's ratio is specified at 1:2 (height to width ratio).
It is also said that the shoot growing out of the top of the areca nut palm tree symbolises regeneration.
Historical Flags of Penang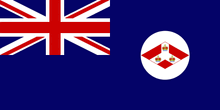 When Penang was under the British crown colony of the Straits Settlements, the Straits Settlements flag was used. As a British crown colony, the Straits Settlements' blue ensign featured the Union Jack canton, as well as the Straits Settlements' emblem at its fly. As for the emblem, the three imperial crowns on an inverted white Y within the red lozenge represented the three Straits Settlements : Penang, Singapore and Malacca.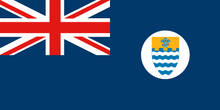 After the Straits Settlements were dissolved in 1946, Penang acquired a new flag, one which represented its change of status from a prized British crown colony to a separate state about to be merged into Malaya. The Union Jack remained at its canton, but the Straits Settlements emblem was replaced with the coat of arms of Penang at the time. The description of the then Penang coat of arms is as follows.
Shield: Barry wavy of eight Azure and Argent upon a chief crenellée Or a plume of three ostrich feathers surmounted by a riband of the First on the riband the words Ich Dien in letters of the Third.
The Prince of Wales's feathers and its motto, Ich Dien, symbolised the founding of Penang Island in 1786 as the Prince of Wales Island, while the wavy blue and white bars referred to the Strait of Malacca surrounding Penang Island. The top blue bar was shaped like a fortress, an allusion to Fort Cornwallis which was built to protect Penang Island in its early years.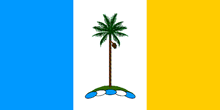 A version of the current Penang flag included a blue and white torse underneath the palm tree. This particular version featuring the torse was actually the original modern Penang flag. In 1965, the torse was removed. Since then, all Penang flags feature the tree without the torse, although the original version with the torse can sometimes be seen.
References
Community content is available under
CC-BY-SA
unless otherwise noted.