Green Lane
is a wealthy suburb of
George Town
, and a major road linking
George Town
with the suburbs of
Batu Lanchang
and
Gelugor
. Two famous missionary schools, as well as the first Chinese school in Malaysia, are located along this tree-lined road. Green Lane proper stretches from
Air Itam
Road to the north to the
Gelugor
roundabout to the south.
The once quiet road began to see urbanisation in the 1950s, when a government quarters was constructed at Cheeseman Road off Green Lane. Penang Free School, the oldest school in Southeast Asia, had moved here earlier in 1928. Residential developments have transformed Green Lane into an upmarket suburb of George Town.
As Green Lane also functions as a main ring road of George Town, daily traffic congestion is a major problem. Several viaducts have been built along Green Lane to divert traffic to other parts of George Town. The ongoing road expansion has also eased traffic somewhat, although certain quarters have opposed the removal of roadside trees for road widening works.
After the completion of the Penang State Mosque at the northern end of Green Lane in the 1970s, the road has been officially renamed Jalan Masjid Negeri. This controversial move has not gone down well with local Penangites, and the original name of Green Lane is still in widespread use today.
Etymology
To this day, it is not known how Green Lane got its name, but the trees along Green Lane could have given the road its lush connotation.
Green Lane is also called Chaeh Chau Hang in the Penang Hokkien dialect, meaning 'Green Grass Lane'.
Green Lane's official Malay name, Jalan Masjid Negeri, was derived from the Penang State Mosque at the junction between Green Lane and Air Itam Road. In Malay, the mosque is normally referred to as Masjid Negeri, meaning 'State Mosque'.
History
Founded in 1816 at Love Lane in the city centre, Penang Free School moved into Green Lane in 1928. At the time, Green Lane served as the main artery within the agricultural area of Batu Lanchang. Roads were paved around Penang Free School and were named after its former principals, such as Hamilton Road and Pinhorn Road.
However, it was only in the 1950s that urbanisation really took off around Green Lane, turning it into one of the first suburbs of George Town. A housing estate for civil servants was built at Cheeseman Road off Green Lane. Since then, more residential developments would follow, changing its landscape into a wealthy suburb.
South of Hamilton Road, Convent Green Lane was opened in 1961. The residential areas which were developed behind it had roads named Hijau ('green' in Malay, in reference to Green Lane). Also, the roads here were the first numbered roads on Penang Island.
Interestingly, when Island Park was developed in the 1960s, the roads connecting the houses within were named after metals in Malay, such as Mas ('gold'), Besi ('steel') and Tembaga (brass). On the other hand, the later development of Island Glades came with roads named after ruby in Malay, delima. Meanwhile, Taman Greenview was developed in between Island Glades and Island Park in the late 1970s.
The road was controversially renamed Jalan Masjid Negeri by the ruling Alliance coalition after the completion of the Penang State Mosque in the 1970s. To this day, the official name has not caught on among local Penangites, who still prefer the lush connotation that the original name, Green Lane, conjures.
Towards the end of the 20th. century, traffic began to increase along Green Lane due to continuing urbanisation and its proximity to the Penang Bridge. Green Lane now serves as part of a major ring road of George Town. To ease traffic congestion, numerous flyovers have been built, such as the Hamilton Road Flyover, the Batu Lanchang Autopoint, the Scotland Road Flyover (northern end over Air Itam Road) and the Udini Viaduct (southern end around Gelugor roundabout). Nonetheless, Green Lane tends to get congested every morning and every evening on weekdays, as people return from their workplaces in Bayan Lepas or in Butterworth across the Penang Strait.
Road expansion has been ongoing along Green Lane to alleviate traffic congestion. The initial widening of a stretch of Green Lane towards the neighbouring suburb of Gelugor has successfully reduced traffic jams. However, further widening of Green Lane between the Hamilton Road Flyover and the northern junction with Air Itam Road will require the trees along this particular stretch to be transplanted elsewhere. The Consumers' Association of Penang has protested against this project, disregarding the hassle thousands of drivers face daily along Green Lane. As a compromise, the Penang Island City Council has managed to reduce the number of affected trees from 33 to 16; these trees will be transplanted along Jalan Tan Sri Teh Ewe Lim in the neighbouring suburb of Batu Lanchang.
Religion
The Malaysian Buddhist Meditation Centre just south of Convent Green Lane is a Theravada Buddhist temple and meditation centre. Opened to the public in 1982, Thai and Burmese influences are more pronounced throughout the temple. The compound actually consists of several structures, notably Wat Pinbang-Onn, Wat Nai and the tomb of Phraya Manopakorn Nititada, the first prime minister of Siam. The temple regularly conducts classes on vipassana meditation based on the Mahasi Sayadaw tradition, which is said to be part of the original teachings of the Buddha.
A Taoist temple, the Hong Sun Seah temple, is located behind Gembira Parade off Green Lane.
Two churches are located around Green Lane - the Cathedral of the Holy Spirit and the Trinity Methodist Church. The Cathedral of the Holy Spirit is a Catholic church in Island Park, Green Lane, while the Trinity Methodist Church is at Green Lane, just opposite McDonald's Green Lane outlet.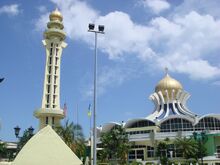 The Penang State Mosque is situated at the northern junction between Green Lane and Air Itam Road. Completed in the 1970s, it features a fusion of Western modernist and Malay architecture and can accommodate 5,000 worshippers at any one time.
Food
Among the best Penang chee cheong fun (Cantonese steamed rice noodle in a sauce) can be found at Genting Cafe within Island Glades, Green Lane. Penang chee cheong fun is different from other regional varieties such as from Kuala Lumpur and Hong Kong, in that the Penang version comes with a thick sweet sauce mixed with prawn paste (heh ko in Penang Hokkien). The one at Genting Cafe is prepared using a self-made peanut butter, which lifts its overall taste.
Other than chee cheong fun, various Penang street food such as asam laksa and char kuey teow are available within Genting Cafe, as well as the coffee shops around its vicinity.
Shopping
Gembira Parade, within Island Glades area, is a derelict shopping mall that has seen better days. The rather empty mall now contains Delta Office Supplies, skincare and facial outlets, the Zero Fitness Dance Studio and a futsal court.
Education
The first English school in Southeast Asia, Penang Free School, has been at Green Lane since 1928. It was established in 1816 and its initial premises was at Love Lane - not far from its fiercest rival, St. Xavier's Institution. The name 'free' actually meant that the school was open to all, not the absence of school fees as some parents had perceived. The school subsequently moved to Farquhar Street in 1896, also on the same street as St. Xavier's Institution, before overcrowding led to its relocation to its present grounds in 1928. The school has a long-standing reputation as one of Malaysia's premier schools. Among its alumni are distinguished figures including Tunku Abdul Rahman (the first Malaysian Prime Minister), Dr. Lim Chong Eu (the second Chief Minister of Penang) and Wee Chong Jin (the first Singaporean Chief of Justice).
Another elite missionary school, Convent Green Lane, was established in 1961 by Catholic missionaries led by Father M. Surmon of the Missions étrangères de Paris. It is well-known for its academically excellent students and its cheerleading squad, which is said to be among the best in Penang.
The oldest Chinese school in Malaysia is also located at Green Lane. Chung Hwa Confucian High School was founded in 1904, backed by the Qing government of China. At the time, Chinese businessmen were concerned that Penang's numerous missionary schools were eroding a sense of Chinese cultural identity among the young Chinese. It was initially set up at Pitt Street, where the Penang Chinese Town Hall is now located, before relocating to Maxwell Road in 1907 and to Green Lane in 1972. From its onset, the school uses Mandarin as its medium of instruction, contrary to the then common practice of using native dialects such as Hokkien.
In addition, the Han Chiang Schools are adjacent to the northern junction between Green Lane and Lim Lean Teng Road. Han Chiang College, in particular, can be immediately accessed from Green Lane via Lim Lean Teng Road. The private college offers diploma and degree programmes in media, accounting and business management.
Healthcare
The Lam Wah Ee Hospital is situated at the junction between Green Lane and Jalan Tan Sri Teh Ewe Lim. The private hospital is one of the more famous hospitals amongst medical tourists and is a major practitioner of Chinese medicine in the region.
The Carl Corrynton Medical Centre is located directly opposite Penang Free School at the junction between Green Lane and Cheeseman Road. Various medical services and treatment are available inside the centre, such as health screening, internal medicine, orthopaedic-sports medicine, plastic surgery, haemodialysis, diabetic complication management and hormone therapy.
There is also a branch of the Optimax Eye Specialist Hospital at Green Lane between Pinhorn Road and Hamilton Road. Available eye treatments include LASIK surgery, cataract and glaucoma treatment, as well as contact lens implantation.
Getting to Green Lane
From the George Town city centre, Rapid Penang buses 102, 206 and 304 transit through Green Lane.
Those from the northern suburbs of Batu Ferringhi, Tanjung Bungah and Tanjung Tokong can use bus 102 to go to Green Lane, whereas those within Gurney Drive can reach Green Lane using bus 304. Residents in Pulau Tikus can choose either bus to get to Green Lane.
Rapid Penang's bus 102 is also available for those coming from the south, specifically the Penang International Airport and Universiti Sains Malaysia.
For those coming from Bayan Baru, Queensbay Mall and Bukit Jambul, bus 304 will take you to Green Lane.
Meanwhile, Rapid Penang has introduced route 13 in 2016, linking Green Lane with the suburbs of Paya Terubong, Farlim, Batu Lanchang, Jelutong and Gelugor.
Those within the southern suburb of Gelugor can choose between all four buses as well - 13, 102, 206 and 304 - to get to Green Lane.
If you are coming from the neighbouring suburb of Batu Lanchang, Rapid Penang bus 11 will also take you to the Lam Wah Ee Hospital.
102 : Teluk Bahang - Batu Ferringhi - Tanjung Bungah - Tanjung Tokong - Bagan Jermal Road, Pulau Tikus - Burmah Road, Pulau Tikus - Macalister Road - KOMTAR - Dato' Keramat Road - Green Lane - Gelugor - Universiti Sains Malaysia (USM) Batu Uban entrance - Sungai Nibong express bus terminal - Penang International Airport
206 : Weld Quay - KOMTAR - Dato' Keramat Road - Patani Road - Jalan Sungai Pinang - Jalan P. Ramlee - Hamilton Road, Batu Lanchang - Van Praagh Road, Batu Lanchang - Green Lane - Yap Chor Ee Road, Gelugor - Jalan Hilir Pemancar, Gelugor - Gelugor roundabout - Tesco Gelugor, e-Gate and Udini Square
304 : Gurney Drive - Bagan Jermal Road, Pulau Tikus - Burmah Road, Pulau Tikus - Codrington Avenue, Pulau Tikus - Cantonment Road, Pulau Tikus - Macalister Road - KOMTAR - Green Lane - Gelugor - Sungai Nibong express bus terminal - Queensbay Mall - Bukit Jambul Complex - SPICE Arena - Sunshine Square Bayan Baru
13 : Paya Terubong - Farlim - Lebuhraya Thean Teik, Farlim - All Season's Place, Farlim - Batu Lanchang Lane - Green Lane - Lebuhraya Batu Lanchang - Batu Lanchang market - Jalan Tan Sri Teh Ewe Lim, Batu Lanchang - Jelutong market - Tesco Gelugor, e-Gate and Udini Square
11 : Batu Lanchang market - Lebuhraya Batu Lanchang - Lam Wah Ee Hospital - Jalan Tan Sri Teh Ewe Lim, Batu Lanchang - Perak Road - KOMTAR - Weld Quay
Political Representation
Penang State Government
N.29 Dato Keramat State Assemblyman : Jagdeep Singh Deo (Democratic Action Party)
N.31 Batu Lanchang State Assemblyman : Law Heng Kiang (Democratic Action Party)
N.32 Seri Delima State Assemblyman : R. Nethaji Rayer (Democratic Action Party)
Malaysian Federal Parliament
P.050 Jelutong Member of Parliament : Ooi Chuan Aun (Democratic Action Party)
P.051 Bukit Gelugor Member of Parliament : Ramkarpal Singh a/l Karpal Singh (Democratic Action Party)
References