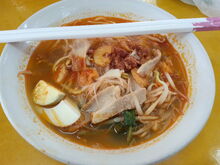 Hokkien mee is a Chinese noodle dish popular in both Singapore and Malaysia. It is believed to have been brought in by immigrants from China's Fujian Province, hence its name.
Although ubiquitous in Singapore and Malaysia, Hokkien mee comes in three distinct varieties, with each variety being more common in a particular geographical region.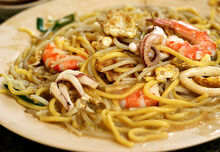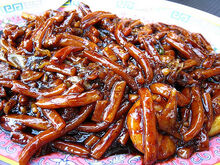 Penang Hokkien mee comes with a spicy prawn broth.
Singapore Hokkien mee is stir-fried, whilst also consisting of seafood ingredients.
Kuala Lumpur Hokkien mee is a darker, stir-fried version that uses thick yellow noodles.
Penang Hokkien mee is one of the more famous hawker dishes on Penang Island, and as such, it is sold in most hawker centres and coffee shops.
Ingredients
What sets Penang Hokkien mee apart from other variants is its prawn-based broth. It is made with prawn heads and shells, as well as pork ribs and dried shrimps.
After the prawn shells have been boiled for a few hours, pork ribs are usually added to enhance the flavour of the broth. A chilli paste consisting of dried chillies, garlic, shallots and salt is then added into the soup, giving it its spicy flavour.
Blanched yellow egg noodles
Rice vermicelli (beehoon in Hokkien)
Prawns
Lean pork slices
Pork ribs
Pig skin
Hard boiled egg
Fried shallots/lard
Bean sprouts
Water convolvulus (kangkung in Malay)
Recommended Places
As it is among the most popular hawker dish on Penang Island, Penang Hokkien mee is available in many hawker centres and coffee shops all over the island. The following are among the more recommended places to try Penang Hokkien mee.
References
Community content is available under
CC-BY-SA
unless otherwise noted.