The Malayan Railway Building is arguably the most prominent colonial building along the Weld Quay seafront within the heart of George Town's UNESCO World Heritage Site. Now known in Malay as Wisma Kastam, the building with an imposing clocktower once served as a railway station - perhaps the only one in the world without a railway.
Completed in 1909, the building housed a ticketing office for islanders who wished to take the train from the town of Butterworth across the Penang Channel. Passengers from Penang Island would then be ushered onto one of the Penang Ferries to Butterworth.
The building, located at the junction between Weld Quay and China Street Ghaut, now serves as the Penang headquarters of the Royal Malaysian Customs Department, hence its current Malay name, Wisma Kastam.
History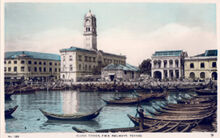 At the turn of the 20th. century, the British were in the midst of developing a continuous rail line linking the major towns along the western coast of the Malay Peninsula. A line between Butterworth and tin-rich Sultanate of Perak was ready by 1900, allowing tin to be transported to
George Town
for smelting and export. By 1903, it became possible to travel by rail all the way to Kuala Lumpur.
Construction of the Malayan Railway Building commenced in 1905, soon after China Street Ghaut was reclaimed from the sea. Prior to the land reclamation, George Town's eastern shoreline had stretched further inland along Beach Street, while a ghaut at the junction between Beach Street and China Street led directly into the sea, enabling goods to be unloaded from docking vessels.
When the building was completed in 1909, it was the largest on Penang Island, and its clocktower the highest. However, the building was initially viewed with contempt by the nearby Chinese community. It blocked their views of the sea from the Kuan Yin Teng Temple and the superstitious Chinese believed that the British deliberately placed the clock facing the temple as a way of telling them that their time is up.
Upon completion, the building served mainly as the FMSR (Federated Malay States Railways) ticketing station for Penang Island, complete with railway administration offices, a booking office, a restaurant and even some basic accommodation. Islanders who bought their train tickets here were entitled to take one of the Penang ferries to cross the Penang Channel to the Butterworth Train Station.
Since the 1960s, the Malayan Railway Building has been serving as the Penang headquarters of the Royal Malaysian Customs Department.
Political Representation
Penang State Government
N.26 Padang Kota State Assemblyman : Chow Kon Yeow (Democratic Action Party)
Malaysian Federal Parliament
P.049 Tanjong Member of Parliament : Ng Wei Aik (Democratic Action Party)
References
Langdon, M. A Guide to George Town's Historic Commercial and Civic Precints. Penang : George Town World Heritage Incorporated.
Cheah J. S., 2013. Penang 500 Early Postcards. Editions Didier Millet.
Community content is available under
CC-BY-SA
unless otherwise noted.