Tags: apiedit Visual edit

 

(Adding categories)

 

Line 22:
Line 22:
 

== References ==

 

== References ==

 

<references />

 

<references />

 
+

[[Category:Transportation in Penang]]

 
+

[[Category:Penang Transport Master Plan]]

 
+

[[Category:Current Issues in Penang]]

 
+

[[Category:George Town, Penang]]

 
+

[[Category:Penang Island]]

 
+

[[Category:Greater Penang]]
---
Latest revision as of 06:37, 8 May 2016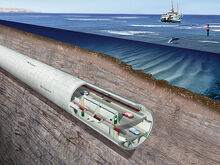 The Penang Undersea Tunnel, under the Penang Transport Master Plan, is a proposed 7.2 kilometre-long road tunnel between Gurney Drive, George Town and the town of Butterworth on mainland Malay Peninsula[1][2][3]. It is envisioned as one of the eventual five links connecting Penang Island with mainland Peninsular Malaysia.
Construction of the tunnel is set to commence in 2021 after some delays[1]. The project is estimated to cost RM6.3 billion (Malaysian Ringgit). Upon completion, it will be the second such underwater tunnel in Southeast Asia, after the undersea portion of the Marina Coastal Expressway in downtown Singapore[2].
Rationale
At the time of its conception in 2011, the undersea tunnel was envisioned as the third link between Penang Island and Seberang Perai on mainland Malay Peninsular, after the present Penang Bridge and the Second Penang Bridge[4]. It was hoped that the tunnel would alleviate worsening traffic congestion on both bridges, as well as providing an alternative cross-strait link for Penangites living within the northern parts of both Penang Island (including George Town proper) and Seberang Perai[5].
The tunnel project was later included in the Penang Transport Master Plan. As such, the tunnel will be one of the eventual five cross-strait links, which include the Penang Sky Cab and the George Town - Butterworth LRT.
Current Status
*All prices are quoted in Malaysian Ringgit (RM).
Consortium Zenith BUCG was awarded the RM6.3 billion tunnel project by the current Penang state government[6][7]. The consortium is a joint venture of Malaysian and Chinese firms, including China Railway Construction Co Ltd and Beijing Urban Construction Group[8].
After some delays, the consortium announced that construction of the tunnel proper will commence in 2021[1]. Before the tunnel could be built, three additional highways, which are part of the RM6.3 billion project, will be constructed first[9][10]. The highways are intended to improve connectivity between the George Town suburbs of Tanjung Bungah, Tanjung Tokong, Air Itam, Farlim, Jelutong and Gelugor and the tunnel.
In addition, the consortium will also conduct environmental impact assessments (EIA) for the tunnel[8].
While the tunnel has received public support from most Penangites[11], some quarters, including a few Malaysian Federal Government ministers, have expressed their opposition against the project. Non-governmental organisations on Penang Island were concerned about the environmental impact of the tunnel on both the marine ecosystem and Gurney Drive, which has been under constant siltation, while a handful of Malaysian Federal ministers from the ruling Barisan Nasional coalition have also been targeting the project for political purposes[12].
References